Bernie Sanders Gives Worst-Case Scenario for Trump Presidency
Views : 672
Nationwide Protests Continue Against Trump's America
Views : 292
The Full Interview: Donald Trump on "60 Minutes"
Views : 256
Obama About to Declare Open Season on Standing Rock Water
Views : 378
John Oliver on the Role of Misinformation in Trump's Election
Views : 521
Will Trump's Immigration Crackdown Be Cash Cow for Private Contractors?
Views : 240
Millions Want Presidency to Go to Popular Vote Winner Clinton
Views : 254
Trump and Obama, Sitting in DC, A-W-K-W-A-R-D
Views : 290
New Weed Laws: What You Need to Know
Views : 365
Mathew Rodriguez: I Feel Like I'm on the Ballot
Views : 140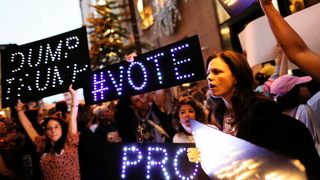 Former Bernie Sanders Adviser Calls for Mass Organizing
Views : 497
Act Out!: What The Hell Happened and What Do We Do Now?
Views : 284
The Young Turks: What Trump Will Do in His First Hundred Days
Views : 571
What's Going on With Dakota Access?
Views : 212
Why Wasn't Donald Trump's Bigotry a Deal Breaker?
Views : 479
George Carlin on "The American Dream"
Views : 550
Keith Olbermann: The Terrorists Have Won
Views : 785
Stephen Colbert Tries To Make Sense Of All This
Views : 537
Van Jones: Trump Victory a "White-lash Against a Changing Country"
Views : 1236
Colbert: Hamilton's Javier Muñoz Convinces Everyone to Vote
Views : 121
Samantha Bee: Freedom of Depress
Views : 255
Trevor Noah: The Final Days of the 2016 Election
Views : 218

Another Tear Gas Standoff With Police at Standing Rock
Views : 182
The Deplorables: A Compilation of Trump Supporters
Views : 721