Rep. Jeffries: How Dare You Lecture Us About Treason
Views : 272
Cannot Unsee: Trump Baldness Exposed by High Winds
Views : 457
Will Corsica Turn Into France's Catalonia?
Views : 100
Automaker Dodge Waters Down MLK's Message to Peddle Trucks
Views : 111
Trump Rejects New Bipartisan Immigration Plan
Views : 108
Why Ukraine Is Trapped in Endless Conflict
Views : 152
Trump Thinking About Prosecuting Robert Mueller
Views : 327
Will Trump Start a War to Unify the Country?
Views : 224
Rachel Maddow Explains the Devin Nunes Memo
Views : 279
The Danger of a Demagogue in a Democracy
Views : 191
Trump's 20 Worst Broken Promises
Views : 212
Big Oil and Gas Money Fueled Special Provision in Tax Bill
Views : 213
Why Do Taxpayers Pay Billions for Football Stadiums?
Views : 317
Roadblocks and Those Clearing a Path in Puerto Rico
Views : 102
Bernie Sanders Rips Trump's Climate Change Lies
Views : 314
The Art of Misdirection
Views : 283
Colbert: Did White House Help Nunes Write the Memo?
Views : 294
Jimmy Kimmel on How to Destroy Your Political Enemies
Views : 248
How Will Oregon Clean Up Deisel Air Pollution?
Views : 148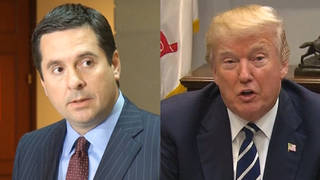 The Showdown Over Nunes Memo and Mass Surveillance
Views : 184
Germany Debates Allowing Refugees to Bring Relatives
Views : 126
Samantha Bee on Forced Arbitration
Views : 229
Bernie Sanders on White House Immigration Proposal
Views : 231
Jimmy Kimmel's Full Interview With Stormy Daniels
Views : 266