In Chicago, Indiana, More Lead Poisoning Caused by Environmental Racism
Views : 258
Billionaire CEO Slips Up, Reveals Truth About Trump Government
Views : 563
What Are We Willing to Risk for Climate Justice?
Views : 113
Noam Chomsky and Harry Belafonte on Trump, Sanders, the KKK
Views : 304
"TIME: The Kalief Browder Story" Trailer
Views : 116
Homeless in the Shadow of Santa Barbara's Mansions
Views : 141
Native American History, Including Standing Rock 2016
Views : 140
Is the Water War Already Here?
Views : 211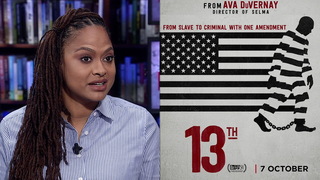 Ava DuVernay Discusses New Documentary "13th"
Views : 150
The Establishment Fears Keith Ellison
Views : 362
Meet the Con Artist Leading Trump's Inauguration Prayer
Views : 433
This Muslim Journalist Challenges Power
Views : 151
Other Pipelines We Should Pay Attention to in 2017
Views : 123
The Daily Show -- Hasan Minhaj Says Goodbye to 2016
Views : 170
Meet Nomiki Konst, The Young Turks' New Investigative Reporter
Views : 187
Bill Nye Talks Climate Reality
Views : 213
Bernie Sanders on Women's Rights
Views : 132
Noam Chomsky on American Exceptionalism
Views : 173
Hate Groups Promise Revolt If Trump Abandons White Supremacy
Views : 328
John Oliver: Why We Shouldn't Forget Trump University Fraud
Views : 344
Rachel Maddow on Why Trump Chose Tillerson
Views : 317
Colbert on Dealing With Trump's Electoral Victory
Views : 207
Jon Stewart: What Makes Trump's Presidency Horrible
Views : 386
Not Trickle-Down, but Bottom-Up: Anthony Flaccavento
Views : 178