Archive: Emmylou Harris and Arlo Guthrie Sing Deportee, Written by Woody Guthrie
Views : 303
Friday Flashback: "A Change Is Gonna Come" by Sam Cooke
Views : 321
Daily Show: Democalypse 2014–The Battle Hymn of the GOP
Views : 614
The Sinister Reason the Koch Bros. Oppose Obamacare
Views : 730
Harry Shearer's Does Nixon's Preparations for Resignation
Views : 1250
Papantonio: Financial Collapse Right Around the Corner?
Views : 845
Climate Change and Wildfires Explained in Three Minutes
Views : 363
Rand Paul Flees in Terror From Hispanic Immigrant
Views : 527
George Takei Remembers Hiroshima
Views : 268
Jon Stewart Completely Freaks Out Over Ebola, as We All Should
Views : 493
Glenn Greenwald: US Intelligence Supports Israeli Attacks
Views : 313
Stephen Colbert: Kids' books would be better with more guns in them
Views : 359
Religious scholar Reza Aslan slams Joel Osteen: Jesus hated wealth
Views : 632
Fragile Truce Pauses Violence in Gaza
Views : 114
Arctic Emergency: Scientists Speak on the Climate Crisis
Views : 408
Jon Stewart One-Ups House GOP With New Border Solutions
Views : 434
Two DREAMers Confront GOP Rep. King Over Immigration
Views : 649
Amnesty International: US Should Stop Arming Israel
Views : 552
My Afternoon as a Hobby Lobby Sidewalk Counselor
Views : 421
Shocking FBI Malpractice Uncovered
Views : 511
John Oliver on Corporate Sponsored News
Views : 1731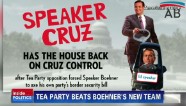 Boehner, Cruz & 'governing by stunt'
Views : 324
Jon Stewart: A Long Weekend of Peace. Not!
Views : 290
Jon Oliver: Pomegrante Juice May Be Best Administered as an Enema
Views : 257